Heybike Explore Electric Bike: Battery: 48V 20Ah Lithium battery Range: 70 Miles(Pedal assist) Hub Motor: 750W Brushless gear motor Max Load: 400 lbs (150kg) Display: LCD display Bell/Horn: Electric Horn Pedal-Assist Range 50-70 miles (80-113 km) Pure Electric Range 40-55 miles (64-89 km) Package Dimensions :165×30×87 (cm) Product Dimensions: 203×64×125 (cm) Recommended Rider Height: 5'5"-6'6" E-Bike Weight: 77 lbs (35 kg) Package Weight: 102.5 lbs (46.5 kg) Pedal Assist: Intelligent 5-level PAS
Recommended By

"When all is said and done, it's a great option for casual riders that want to go long distances, do a little off-roading, or really, for those who just want a smoother more comfortable bike ride."

- digitaltrnds
"So these 26 by 4-inch tires are going to be really nice for days like today when you're riding through a little bit of snow or mud gravel sand things like that. I like the big tires on a lot of bikes because it makes it look a lot more massive, a lot cooler. And they're good for on the road or off-road."

- Jeremiah Mcintosh
"Now, this is pretty crazy 70 miles, 70 miles is like from Chicago to lake geneva. That's 70 miles. And not only that but this thing is built like a tank, it's super impressive, it's large, it's like, I don't know it's like a hummer of the bike. It just is a very impressive bike. "

- EBPMAN Tech Reviews

Heybike Explore Fat Tire E-Bike
26" x 4.0" Puncture
Resistant Fat Tire
Front Suspension Fork
1~5-level PAS
Shimano 7-Speed
Removable 48V 20 Ah Battery
750W Brushless Gear Motor
Max Range:
55 miles (pure electric)
70 miles (pedal-assist)
Step-Through Design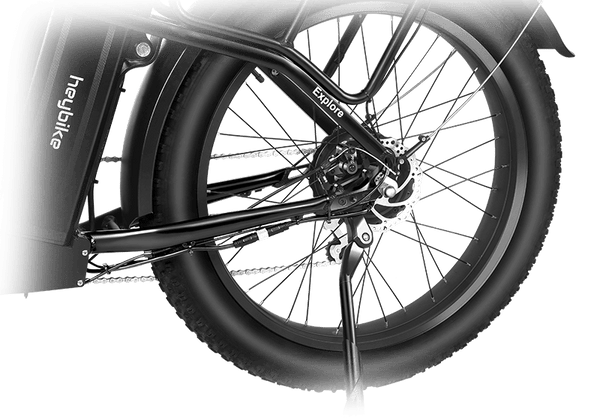 Efficient Brushless Motor
An upgraded 750 Watt motor with 1-5 level PAS modes.
NO matter if you want to enjoy the ease of sightseeing in a town, or explore a back road you've never been to, the multiple modes help you handle different kinds of road conditions, bringing you to explore a new range with extraordinary passion!
Removable Battery
The 48V 20AH removable battery provides a range of up to 55 miles (pure electric) / 70 miles (pedal-assist). 
Not only sufficient for your daily commute but also confidence for your outdoor exploration while it is convenient to release the battery and charge it in your home or office.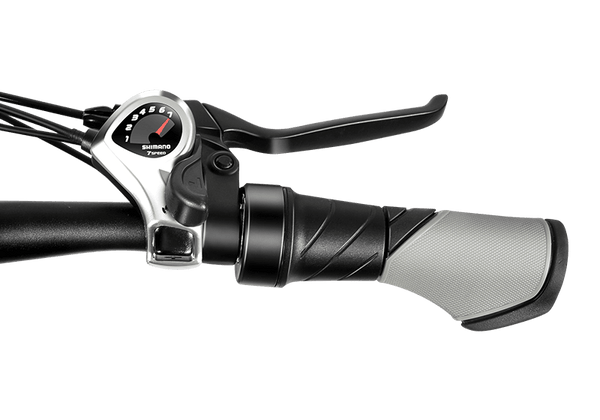 Twist Grip Throttle
A twist throttle provides a stable ride. As it maintains more of a constant throttle, it helps you easily handle a rough road condition.
Not to press but only twist, an easy control is also available in wintertime and a fine, stable ride with the wild beast in your extraordinary exploration.
Bottle Holder & Integrated Rack Mounting Holes
The water bottle holder fits most standard water bottles. The Front mount allows you to install a front rack or basket (not included with the bike).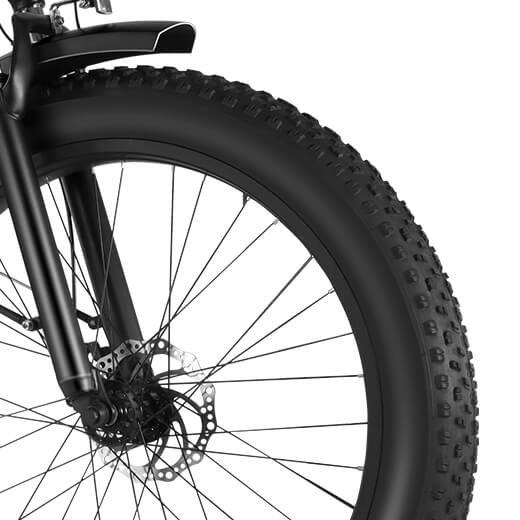 26" x 4" Resistant Fat Tire
Big Toys for Big Boy! Huge as the 26" x 4" fat tires, Explore crushes over obstacles and shocks, making a stable ride and a constant speed for your adventure.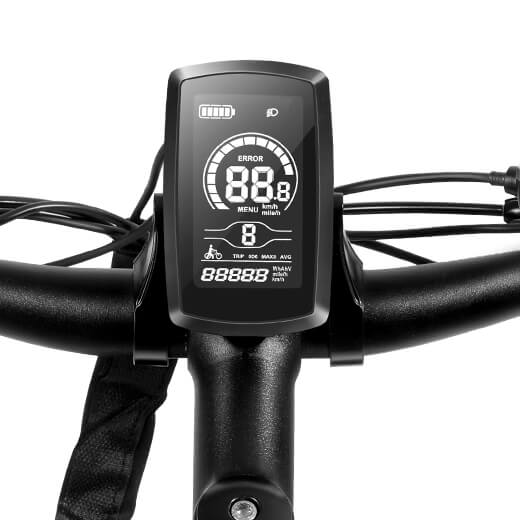 Multifunction Display
Operating on a multifunction display, you can choose Pure electric mode, Intelligent 5 level PAS mode, or a mode of not activate the throttle. The digital display also provides important information on its Odometer, Speedometer, Wattmeter, Battery Capacity, and etc.
Front Suspension
The front fork has a built-in suspension for improving shock absorption and smooth riding.
Sturdy Rear Rack
Bring more possibilities to your trip! Up to 120 lbs load capacity, the rear rack is sufficient for equipping with extensions, such as a saddlebag or a rear basket. Sufficient preparation for any conditions in your exploration, or simply a convenience for your daily commute.
Powerful Motor
A huge appearance carrying a strong heart! The Explore is equipped with a 750 W motor, whether a rough the road you would ride or a fast speed you would reach, it makes it plain and just handles it.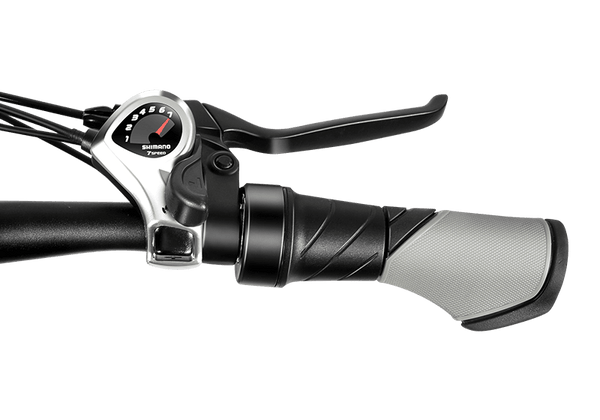 Twist Grip Throttle & Shimano 7-Speed
Newly upgraded twist throttle releases your thumbs, making it easier to control your speed and ride more safely. Shimano 7-Speed's wide shifting range is smoother and more precise, allowing to quickly shift effortlessly on different surfaces.
Comfortable Damping Seat
A comfortable and adjustable seat combined with shock absorption, making your ride both smooth and stable.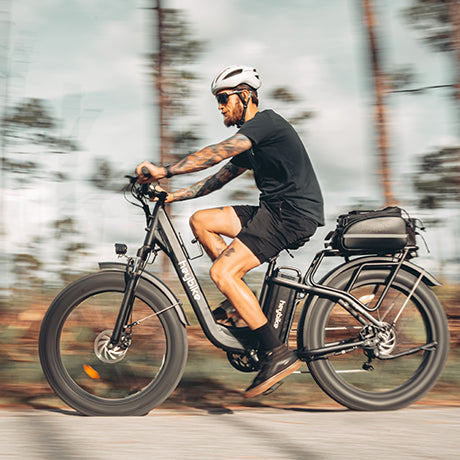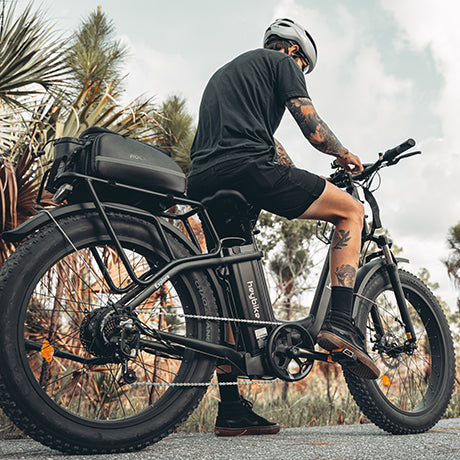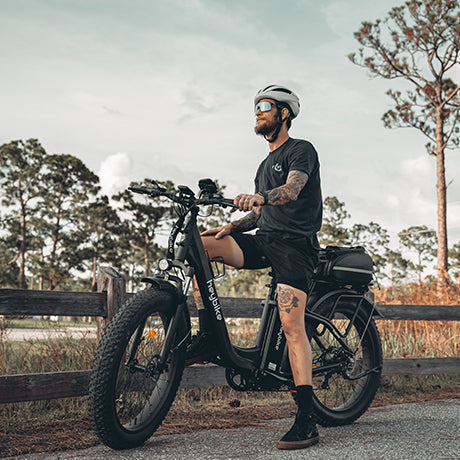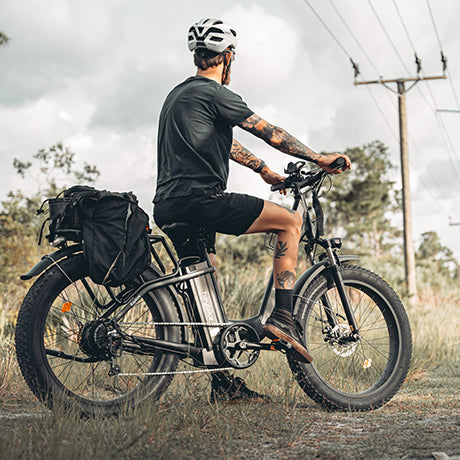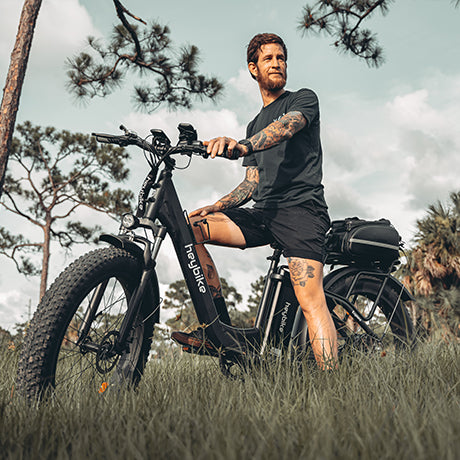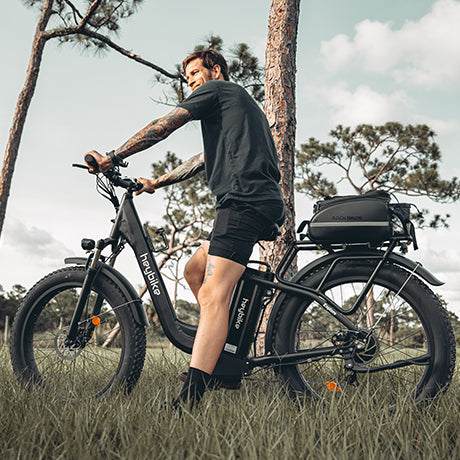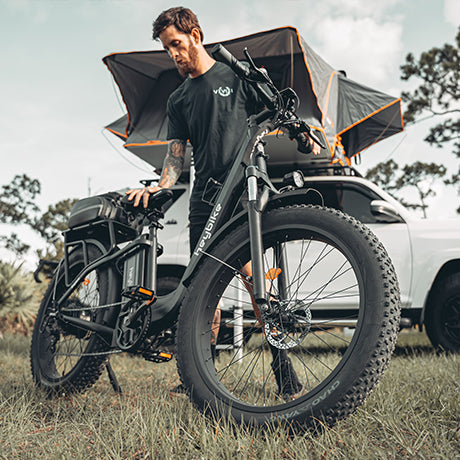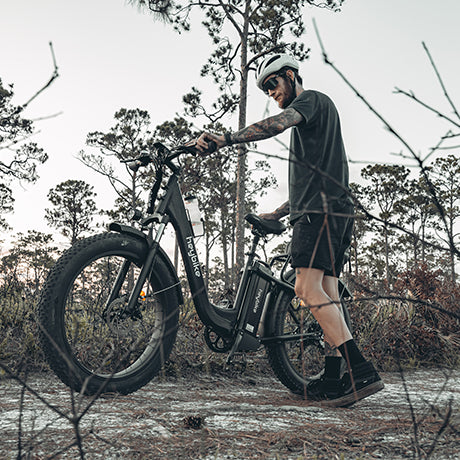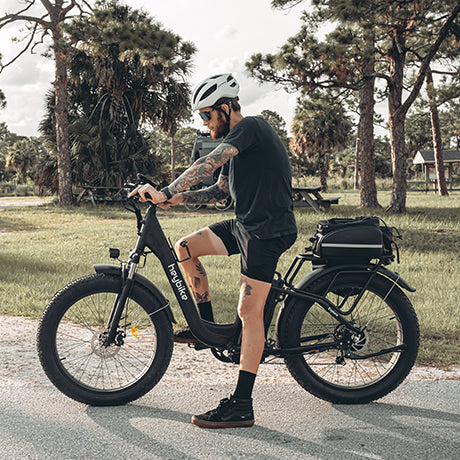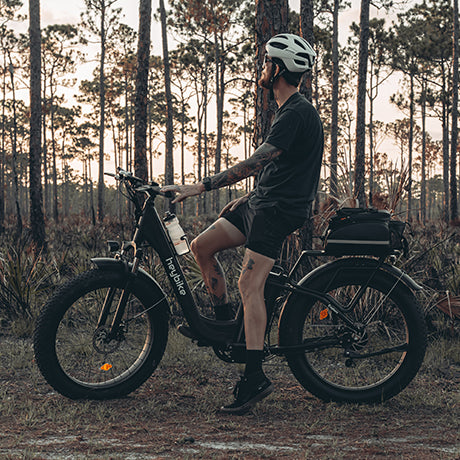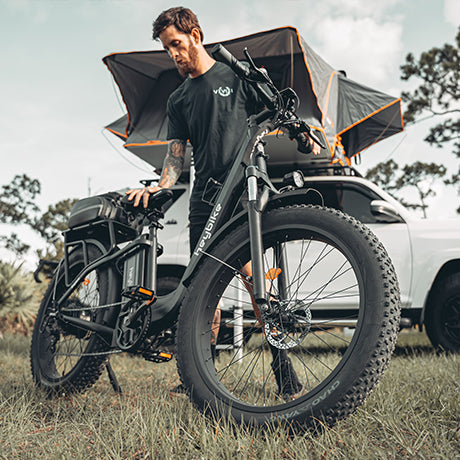 explorer
pas de prise usb pour le téléphon et pas de frein hydraulique, mes le reste est très bon dit moi si a une possibilité de l'avoir
WOW...JUST WOW!!!
I have been looking for an ebike for months now. I wrecked my car and this is bike is my main source of transportation. I live in Golden, CO and not only can I ride this bike to work but when I am off work then I can head to the trails. It does get a little rough depending on the trail as would any bike. The speed is intense! I have ridden over a 100miles on this bike in just a week. So far this has been a really good bike and the style is awesome. It is a heavy bike, also I suggest you be 6ft 1 to sit comfortable on this bike. I am 6ft, seat is all the way lowered and cannot place both feet flat on the ground. Do keep that in mind when purchasing.
Assembly was very easy, just don't do it under the influence! I was a little upset that I didn't receive instructions on how to install the basket. Couldn't find a youtube for that specific bike. Thinking some black zip ties will do the trick.
Battery life: So as I said, I have ridden over 100 plus miles up and down some pretty darn good hills. I live in the foothills of Golden and have only charged 2 times. Haven't really let the battery get down past the last 2 bars.
Tires are fat and strong! Seat is not soft or good for long rides.
Best purchase I made in my life.
I have over 2000 miles on my explore so far, and it has been a godsend as my main commuting source since I don't have a car. I've ridden it in all weather conditions, including rain, and it has held up well. Extremely fast, comfortable, and high range.
For context, I am a rather muscular 200 pound man with about 30 pounds of gear, and this bike carried me uphill through snow at 20mph without pedaling. That is actually insane.
The only reason I am giving it four stars instead of 5 is because I don't think it makes sense for a bike this fast and this heavy to not come with hydraulic brakes. The weaker, lighter Cityrun model has them, but not this? C'mon Heybike, get it together.
I am very happy with my Heybike Explore
I was severely injured in an accident and haven't ridden any bike in over 20 years. I hoped an e-bike would be the solution as it's self-propelled. After much research, I chose the Heybike Explore and knew I chose well. The construction is solid, the fit and finish are excellent, the battery is easy to handle and the riding experience is wonderful. I highly recommend Heybike Explore.
CT
Riding Range Test | Explore
Max Range: 55 miles(pure electric) / 70 miles(pedal assist )
*Note: Throttle Max Range tests are calculated using PAS 1 with a rider weight of 165 lbs on flat terrain. Throttle speed and range may vary if ridden in different conditions.
What are fat tire step-thru e-bikes good for?
A fat tire step-thru e-bike has both the advantages of a fat-tire and a step-thru. It keeps a more constant speed and stable riding while it is easy to get on and off the bike. 
What are the main differences between Heybike Explore and Heybike Mars?
The Explore is an Ebike that is bigger (26"x 4" fat-tire), more powerful (has a 750w motor), and has a faster speed (up to 28mph) than Heybike Mars. It also has a longer range (70 miles per charge under PAS mode) than Mars. But also please be aware that the recommended height of Explore is 5'9"-6'6" while Mars's 5'3"-6'3".
Can I use the Explore to charge my phone?
Unfortunately, currently, Heybike Explore can not be used to charge phone as there is no USB charge port on it.