Heybike All Terrain Fat Tire Folding Step-Thru Ebike -Ranger: Battery: 48V 15Ah lithium battery Range: 48 Miles (pedal assist) Hub Motor: 500W brushless gear motor Max Load: 330 lbs (150kg) Display: LCD display Bell/Horn: Electric Horn Installed Charging Time: 5-6 hours Pedal-Assist Mode: 38-48 miles (60-77km) Pure Electric Mode: 30-37 miles (48-60km) Product Dimensions: 174×63×128 (cm) E-Bike Weight: 70.5 lbs (32kg) Package Weight: 89 lbs (40.5kg) Recommended Rider Heights: 5'3" ~ 6'3"
Recommended By


"I think they made some really nice upgrades with the bigger 15 amp hour battery, the mag rims instead of the spoke rims the included cup holder, the higher speed at 25 miles per hour. I think that's some really nice upgrades!"

- Jeremiah mcintosh
"Race - I was pleasantly surprised by the power. Good job Heybike!"

-Bolton
"I think, at the price this bike offers lots of good features and competitive specs."

- Electric Vehicles sapce
"Cityscape - Tons of features. Lots of
value for your money."

-RK9 rides
Heybike Ranger Step-through Fat Tire E-Bike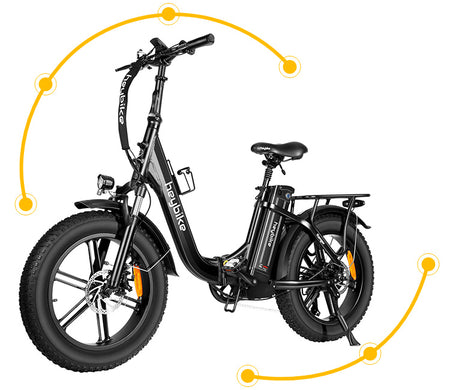 20" x 4" All Terrain Fat Tires
Front Suspension Fork
Multifunction Display
Removable 48V 15Ah Battery
Sturdy Rear Rack
500W Brushless Hub Motor
Easy to fold in two steps
Powerful Brushless Motor
Boasting a 500 Watt motor, this folding e-bike is not for the faint-hearted. Not only powerful, but the 1-3 level PAS mode also offers you an accurate control fit for various road conditions.

Foldable for RV Trips
Folding bikes are not only popular with city commuters but they're also super convenient for people who have limited living space - if you live in a studio apartment or shared house, for example. And Ranger also much easier to take with you on RV trips or even canal boat holidays.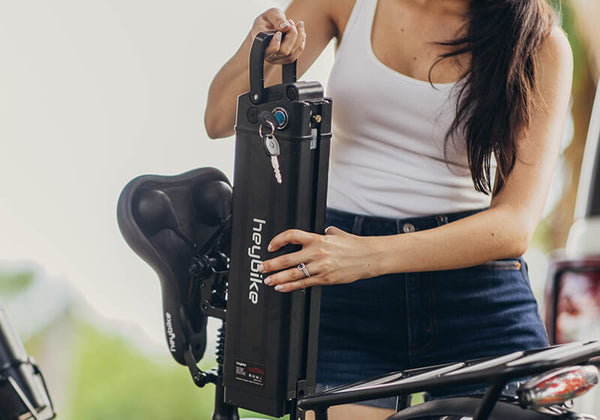 Battery
Lockable 48V 15Ah Lithium-Ion battery covers a range of up to 40-55 miles per charge. Plenty for most one-day adventures and commutes. Easy to remove and charge at your home or office.
5-6 Hours
To Fully Charge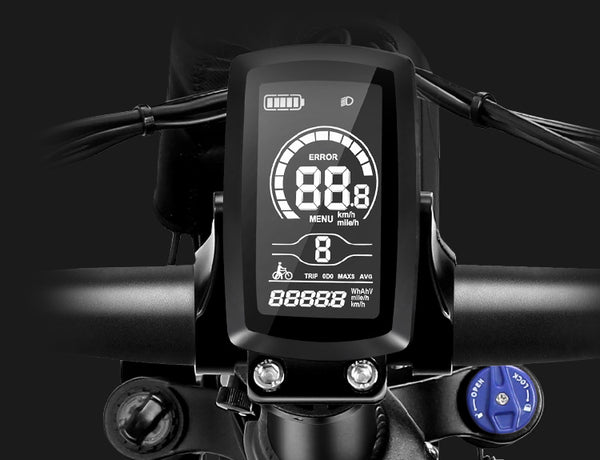 Multifunction Display
Backlight display provides speed, mileage, power, etc information.
Battery Capacity
A fuel gauge for your electrons.
Odometer
Calculate how many miles you ride.
Speedometer
You can view the current average speed or speed.
PAS Level
Shows which PAS level you've chosen.
Front Suspension
The front fork has a built-in suspension for improved shock absorption and smooth riding.
Dual Front Light
Ride safe using the bright headlight with a unique LED circle that lightens up your way while also making you easily visible to others.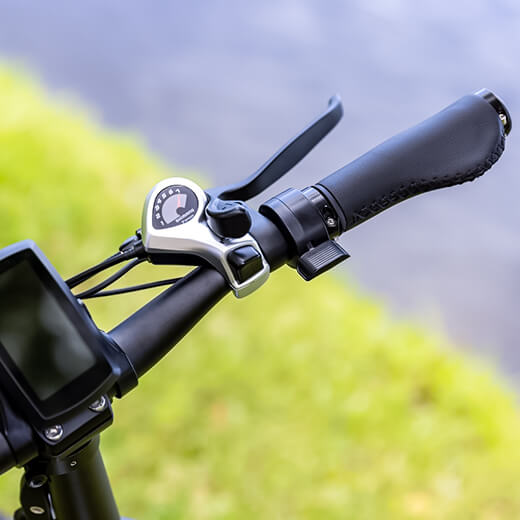 Shimano 7-Speed
Dropping into a lower gear can make the pedaling easier on hills or at low speed, and then shifting up into the highest gear gets the bike going fast again.
Bottle Holder & Integrated rack Mounting Holes
The water bottle holder fits most standard water bottles. The Front mount allows you to install a front rack or basket (not included with the bike).
Comfortable Damping Seat
A comfortable and adjustable seat combined with shock absorption, making your ride both smooth and stable.
Removable Battery
Charge your electronics like mobile phones using the bike's USB port on the go and never get caught with an empty battery.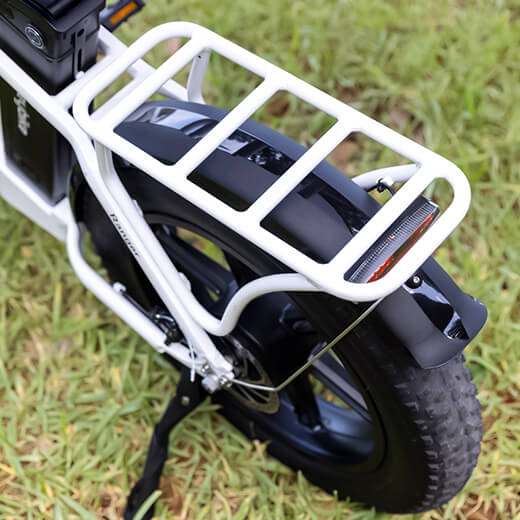 Sturdy Rear Rack
The rugged frame even has a 330 lb (150 kg) weight rating, making the bike a great choice for moving cargo.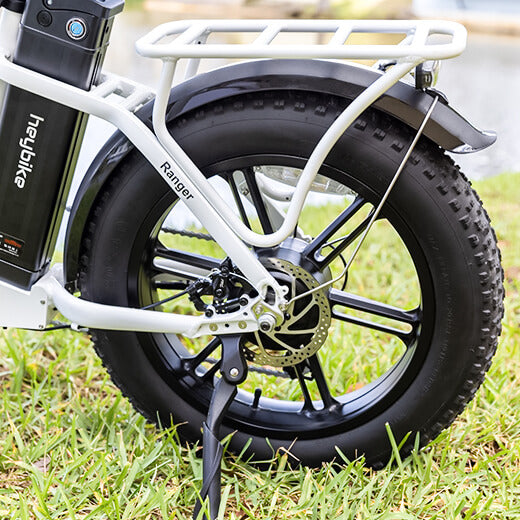 Powerful Motor
Equipped with a 500W high-speed brushless hub motor, providing more than enough to power your daily commute and outdoor adventures.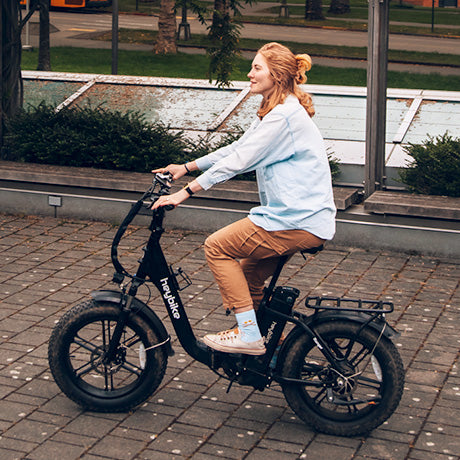 The idea..
It's winter here aka snow so I've not had a chance yet to ride it but I'm anticipating spring just becuz my ranger e-bike
Need to return Ranger Ebike
I am very ill, and I ordered bike when I was on steriods.My son lives in Aurora and he could return it to you. It has never been riden
Thanks Victor
Ranger -customer service
I like my Ranger e-bike, I do. I've posted the the customer support and NO response. What's up,with that?
As good as promised in Online Review Videos
Chose the Ranger after watching several online reviews of this and other fairly similar E-bikes. Solidly made and very easily assembled. Initial ride acceleration was a bit hairy for someone new to electric assist. Then I learned how to increase the number of power assist modes from the factory setting of 0-3 to my own 0-5 and reduce the % settings -- which was particularly useful when starting off in Mode 1. My top setting in Mode 5 is 70% now in order to stay bicycle legal in my province as Class 2 with top speed about 20 mph or 32 kph. Loads of fun and pedalling up hills is much pleasanter now with some assistance. Wish I'd got this bike much earlier.
K Logan
Love the bike. Not a huge fan of assembly instructions. I notice on website corrections on assembly of front tire had been corrected. I think that should be advised in book or at least send email advising customer. Other then that it is a very solid bike so far. Thank you
Riding Range Test | Ranger
Max Range: 40 miles(pure electric) /55 miles(pedal assist)
*Note: Throttle Max Range tests are calculated using PAS 1 with a rider weight of 165 lbs on flat terrain. Throttle speed and range may vary if ridden in different conditions.
What is a step-thru electric bike?
Different from step-over bikes, there is no top tube on the frame of a step-through bike. Therefore, it allows people to get on and off the bike in an easy and convenient way.
Is the Ranger step-through bike good for commuting?
Why not? The Ranger is convenient and comfortable to ride. Its battery could cover a common commute range. Its fat tire could handle all kinds of road conditions. And also, it is foldable as long as you need it.
Are step-through bikes heavier than step-over bikes?
A step-through bike may not be heavier than a step-through bike. How heavy is a bike depends on how the bike was designed. It does not depend on it is a step-through or a step-over bike.