Recommended By
"Cityspace is entry-level cruiser e-bike with great features for the price. An approachable, fun e-bike for everyone."

-Electric Revolution
"Cityscape - Tons of features. Lots of value for your money."

RK9 RIDES

Meet the Heybike Cityscape
Low-Step Frame Design
Front Suspension Fork
Multifunction Display
3-Level Pedal Assist Mode
Shimano 7-Speed
Removable 36V 10Ah Battery
350W Brushless Motor
Range:
Up to 25 miles(Pure electric)
Up to 40miles (Pedal assist)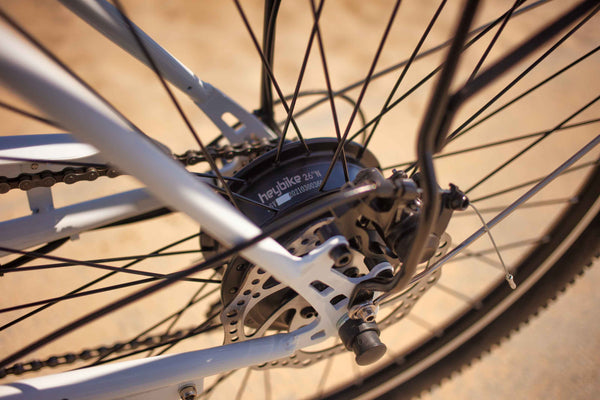 Efficient Brushless Motor
The geared hub motor provides a smooth and quiet ride. It has lots of torque for starting from a standstill and climbing hills. Thanks to the high-resolution 12-magnet cadence sensor taking off and stopping are predictable and easy to control.
Specialized Removable Battery
With 36V/10AH large capacity battery, max travel range up to 25 miles under pure electric mode and 40 miles in pedal-assisted mode. Quick removable modular battery lets you charge the battery pack on or off the frame. The battery of Heybike Cityscape ebike has also a lock to keep your battery safe. 
Thanks to the USB port you can charge your electronics on the go and never get caught with an empty battery
Note: Ensure the key is in the unlock position before removing the battery of the mount.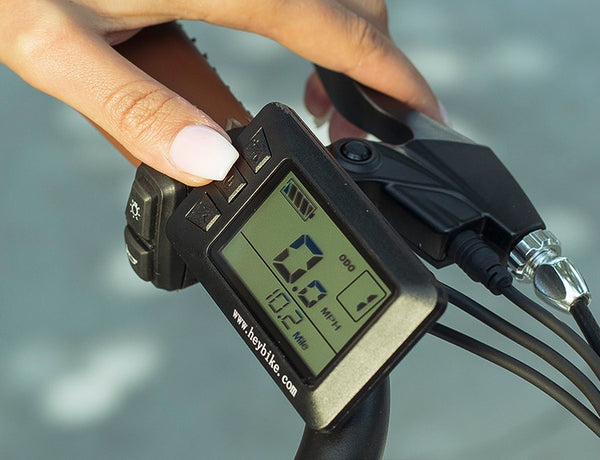 Multifunction Display
Backlight display provides speed, mileage, power, etc information.
Battery Capacity
A fuel gauge for your electrons.
Odometer
Calculate how many miles you ride.
Speedometer
View the current average speed or speed
Wattmeter
Displays motor power output in real-time.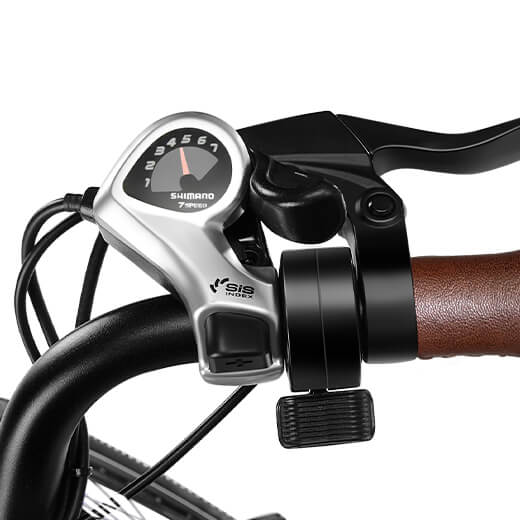 Shimano 7-Speed
A wider range of gearing at your disposal means more torque for the treacherous uphill climb and maintain pedal authority at top speed. The cogs are nickel coated, which makes them rust-resistant and a lot smoother to shift.
Dual Lights & Brakes System
Dual-disc brakes that you can adjust to your liking. Comes with integrated headlight and brake light! The headlight offers a bright 270 lumen center beam and a unique LED circle to keep you seen.
3 Working Modes
Pure electric mode & Intelligent 3 level pedal assist mode and manual mode (pedaling) mean that you will be ready for all road conditions.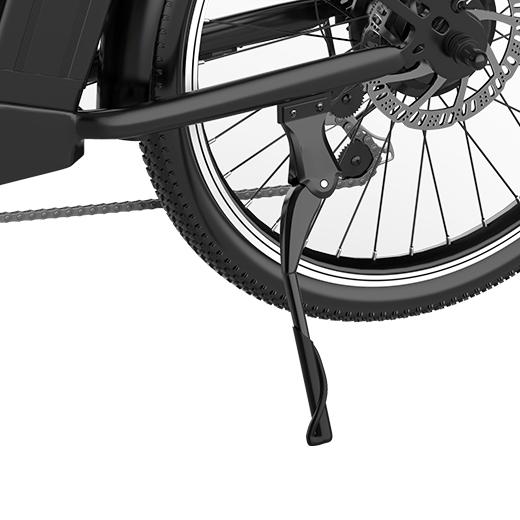 Strong Kickstand
The kickstand stops your ebike from falling. It easily supports the weight of the bike. (Bike Weight 58.4 lbs(26.5kg), Max Load 264 lbs (120kg)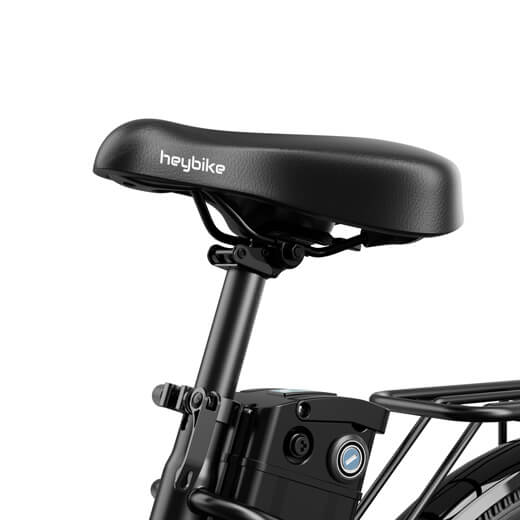 Comfortable Damping Seat
A comfortable and adjustable seat combined with shock absorption makes your ride feel both smooth and firm.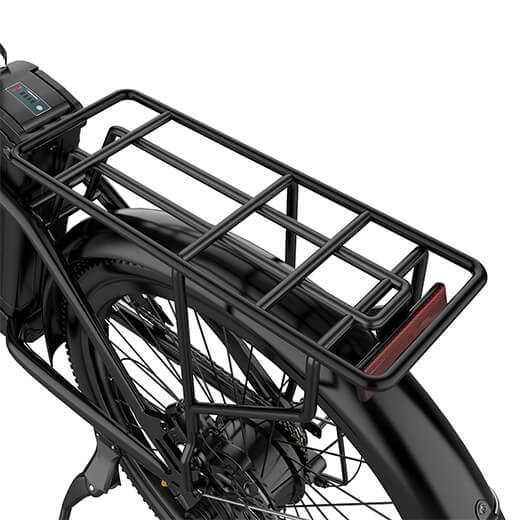 Large bike rack
Attach panniers, platforms, or baskets and let the bike carry your cargo.
USB Charging Port
Charge your electronics like mobile phones using the bike's USB port on the go and never get caught with an empty battery.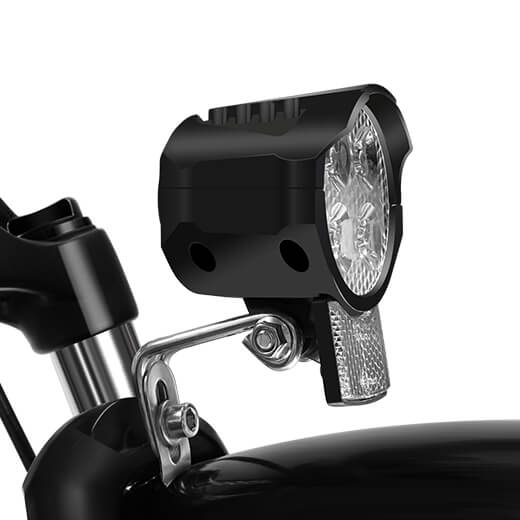 High-Visibility LED
The headlight offers a bright 270-lumen center beam and a unique LED circle that makes you visible for others.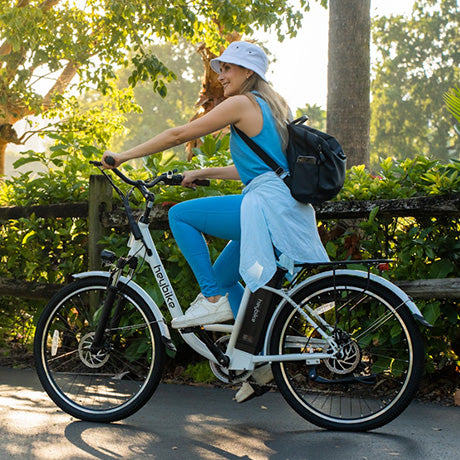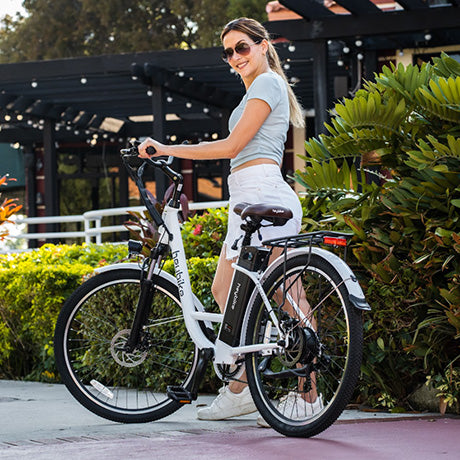 Early days in my electric biking experience
I have never ridden an electric bike before and am enjoying it. I do find it heavy to handle and also starting on a hill seems very difficult. Perhaps these issues will resolve with practice.
The best ebike platform to maintain. modify and upgrade
After much research, I chose the Cityscape; it checked all of the boxes for me: reasonable price, stock components, very easy to service.
Unlike other ebikes with bespoke components (battery, frame, controller, etc.) the Cityscape is built upon tried-and-true, standard components. This hands-down makes the Cityscape the ideal platform to maintain, modify and upgrade.
With standard 26" tires, rolling resistance is far less than its fat-tired counterparts. The ride is comfortable, safe, and enjoyable.
Its 350 W motor and 36 V 10 Ah battery are quite adequate to get around town. If these aren't sufficient for your needs (e.g. range, power), it's straightforward to DIY upgrade to 48 V (hint: the included controller already supports a 48 V configuration).
Fabulous e-bike
This is the perfect bike for the Edmonton River Valley paved trails. It handled the hills with ease. Note the electric horn vs a bell sound did have a lot of heads turning. Customer service answered all of my pre-purchase and post-purchase questions. The bike fit my 5'4" height just fine. Delivery was quick. I'm very happy with this purchase. Waiting for the Cityscape spare battery to be in stock to purchase.
Great bike!
Best bike ever! And fast delivery 👍👍👍
Very good bike
I bouht this bike for my wife and she really like it, not too heavy, easy to ride and it is powerfull enough to make a long ride.
Riding Range Test | Cityscpae
Max Range: 25 miles(pure electric) / 40 miles(pedal assist)
*Note: Throttle Max Range tests are calculated using PAS 1 with a rider weight of 165 lbs on flat terrain. Throttle speed and range may vary if ridden in different conditions.
What is an electric cruiser bike?
Cruiser biker has advantages in its simple, easy, and stable riding. It is perfect for your daily commute, sightseeing in a town, and your weekend shopping way to the mall.
What size cruiser bike do I need?
No matter it is a cruiser bike or another kind of bike, the size you need depends on the height you are. And the recommended height of Heybike Cityscape is 5'5"-6'5".
I weigh 330lbs, will I be too heavy to ride?
Unfortunately, as the max load capacity of Heybike Mars is 264 lbs, if you weigh 330 lbs, it would be too heavy to ride it. Please note that the max load for rear rack is 100 lbs.